Completed in 1825 - the old Erie Canal made the frontier town of Buffalo a boom town and the "Gateway to the West". Thousands of pioneers and immigrants transferred from the canal packets to the sidewheeler steam ships to continue their westward journey. It wasn't too long after that - that these pioneer farmers were sending back ever increasing loads of grain and other products. Buffalo soon became the grain milling center of the U.S.
---
History & Images of the Erie Canal
All about the NY State Canal System
History of the Erie Canal
The Story of Edward Freeman, "Paddler"
- As a young man he helped build the canal. He spent many years on the Great Lakes working as a "Paddler" on the side wheeler (Paddle) steamships and late in his life raised his family on a canal barge.
Erie Canal Cruises
- You can still take peaceful scenic tours on the canal via the Erie Canal Cruises - based in Lockport, NY.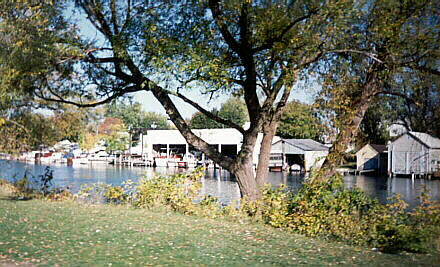 Tranquility along the canal.
A book that explores -
The Secrets of the Human Imagination and the Enigmas of the Universe
Click on cover!

*****
"Buffalo & Western NY Web Guide" (click here)
World Wide Web Links
Beautiful Western New York
Articles by the author.
Hotel Directory of Buffalo & Western New York
Directory of Golfing in Western New York
Comments?